I got transferred to
Owen Sound, Ontario
. Elder tinney is my new comp and I am a district leader! haha. Ya it was super hard leaving that area :(My new area is sooooo big! and i am still trying to learn to love it :/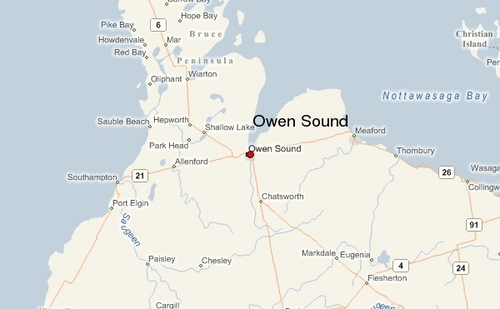 Well here is the report :) haha. my new area is not too bad! It is literally the biggest area in the mission! We do not keep in the a lotted amount of ks haha. we can go 2 hours or so in every direction lol and its still our area. We cover from the tip of tobermory to the blue mountains and kind of like a cut off haha hard to explain. but our area is big. It is not a bad community but everything is just so spread out. i have yet to wonder around much but have been all over the place visiting different members. The ward count is about 80ish average. Our Ward mission leader is actually pretty awesome! He is a rm and had to come home early for back problems! Its fun on the weekends we actually go over and become construction workers! I am learning how to build a house from scratch! haha. :P that might be against some rules but oh well i love climbing scalfholding haha So elder tinney is my new companion. He is from Red Deer but originally from Chillowack BC. He is 20 years old and a bigger guy. I got to serve with him in Windsor for exchanges. He is a pretty goood missionary and really knowledgeable! So I was nervous about my comp but he is turning out to be pretty awesome! Yes I know Tavis is in my Zone haha. I hugged him last Friday! Oh guess what I am a district leader now!
The dynamic trio!







Our waterfall hunting group!
Our waterfall hunting group!
selfie!
Elder Cowley and I




Well Grandpa is finally dead! "grandpa" is Elder Joe's first companion who trained him.




He is "Dead" now because he is going home
This was our first greeting party in the Sound! He almost bite my finger off and i do not think turtles are slow anymore.
Just gotta love the sun sets!




Well Elder Cowley, Elder Izzth, and I were pretty crazy on this one! It was fun hanging off the edge! haha